The EpicQuestz Newsletter
Issue

#55

- 17 January 2022
Editor's Note
Greetings readers! I wish you a wonderful new year with great success in your studies and at work as-well as health for you and your family! I have the honour of writing the first newsletter of 2022, in which we will review all of the recent progress on the Lord of the Rings projects and the news in the community. Let's jump right into it!
-Editor,
@LimeeFox
Project Progress
The project has been reviewed and approved by its leader, and the cinematic is finished! The only steps left are defining the map borders (for the release) and actually releasing it.
- Editor,

@lee_yam1
As mentioned in the previous newsletter, a goal was set to create a set of trees with different leaf colours using different biomes, in order to paste them in the forest later. The trees have been textured and now we are awaiting the terrain leader to sort the forest out. On the subject of Bree it-self, in the recent days we managed to complete the city walls and the hedge behind it. There is still a portion of the walls left to be built, but those will probably not include a hedge behind it. Multiple interiors have been structured and built, and some further city planning has been done. Build events/build sessions promise to be more common throughout the coming weeks.
- Project Leader, @LimeeFox
Other Developments
A huge member survey has run through the ranks of Member (Builder+) with many questions on the subject of their experience in EpicQuestz. I have analysed the results in depth & shared it with my fellow staff members. It allowed us to clarify many aspects of our team, and learn about others. We shall proceed to a detailed discussion of the responses in our following Staff Meeting in order to bring changes and improvements to our community. Thanks to everyone who participated! It is likely that another, similar member survey will be hosted next year, in 2023.
in other news,
CHRISTMAS, NEW YEAR, PARTY!
A couple of members including stavrdaf, ketagoblin and myself, LimeeFox, have decorated Helm's Deep (/spawn) with christmas elves, defending the presents on the deeping wall against an army of Ginger-Hai, or alternatively Uruk-Bread.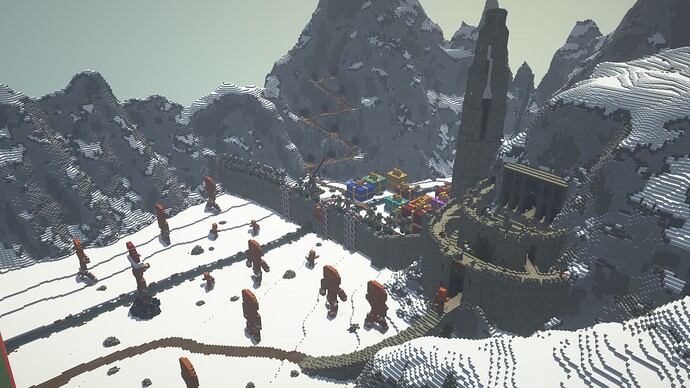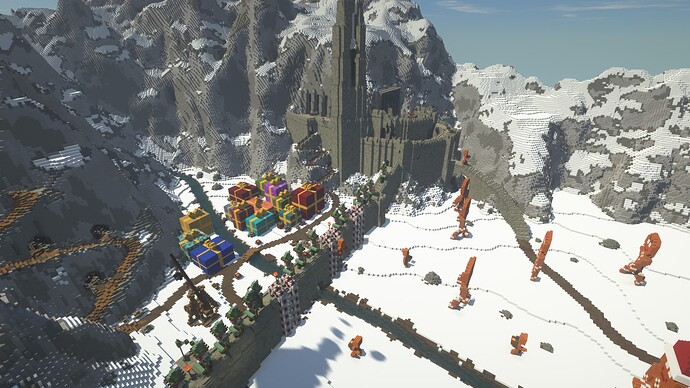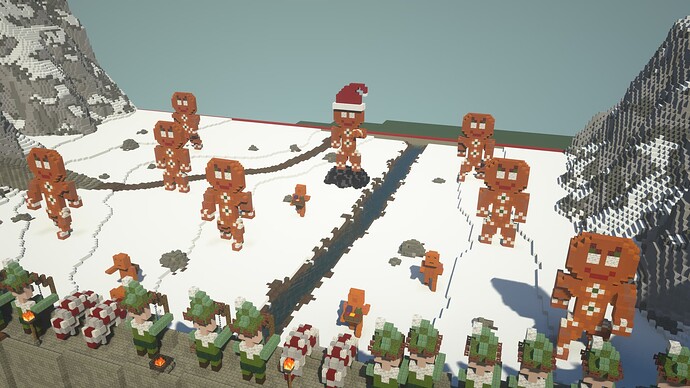 Technical Corner
StealWonders and I have tested a 1.18.1 version of our server, but due to numerous height limit & permission issues in various worlds, especially the plot worlds, we have decided to wait a little longer for plugin developers to stabilize their plugins.
Featured Creation
This week, I would like to feature another amazing Minecraft ice boat karting map, set in our Helm's Deep! It isn't entirely finished yet, but it is close to! Anybody can try it out at /warp eqk-helms.
Closing
The goals for the coming weeks will be running multiple build sessions and to release Aldburg. In order to tease you a little, we have started preparing for the project of Isengard! Can't say much more for now, but stay tuned!
I remind every reader who isn't a builder+ that our applications are open, and we will be most delighted to welcome you in the ranks of Members, and look forward to work with you on some Middle Earth locations! How to join: https://forums.epicquestz.com/t/how-do-i-get-promoted-to-builder/
Thank you for reading, and see you online

BI-WEEKLY QUIZ:
Why was there a third Eagle flying to pick up Frodo and Sam after they've destroyed the ring?