Grimslade
A part of the larger Rohan project, Grimslade was the ancestral seat of Grimbold, a Marshal of the Mark.
Meta
/warp Grimslade, /warp Grimslade-assets, Grimslade-assets2
Project Overseer: @Tobberz
Project Designer/Manager: @LimeeFox
Project Deputy: @Savitar
Resource Pack: EQPack compulsory
Region: Rohan
Background
From the Tolkien Gateway:
Grimslade was the ancestral home of Grimbold, a lesser Marshal of the Mark. Nothing is known of the location of this structure other that it stood in the Westfold of Rohan. The word "slade" seems to imply that the house was either in a clearing or on a hillside.

The name Grimslade is modernized from Old English Grimslaed representing Rohirric.

It comes from Grim, which Tolkien describes as "evidently the name of an ancestor", and slade, "forest glade, dell on the slope of a hillside" widely used in English place-names.
Outline
This is quite late in the project to be starting a project planning/info thread, but we felt it was necessary for clarity's sake, and it will become the norm henceforward. The thread will be updated with progress and instructions as the project proceeds.
Map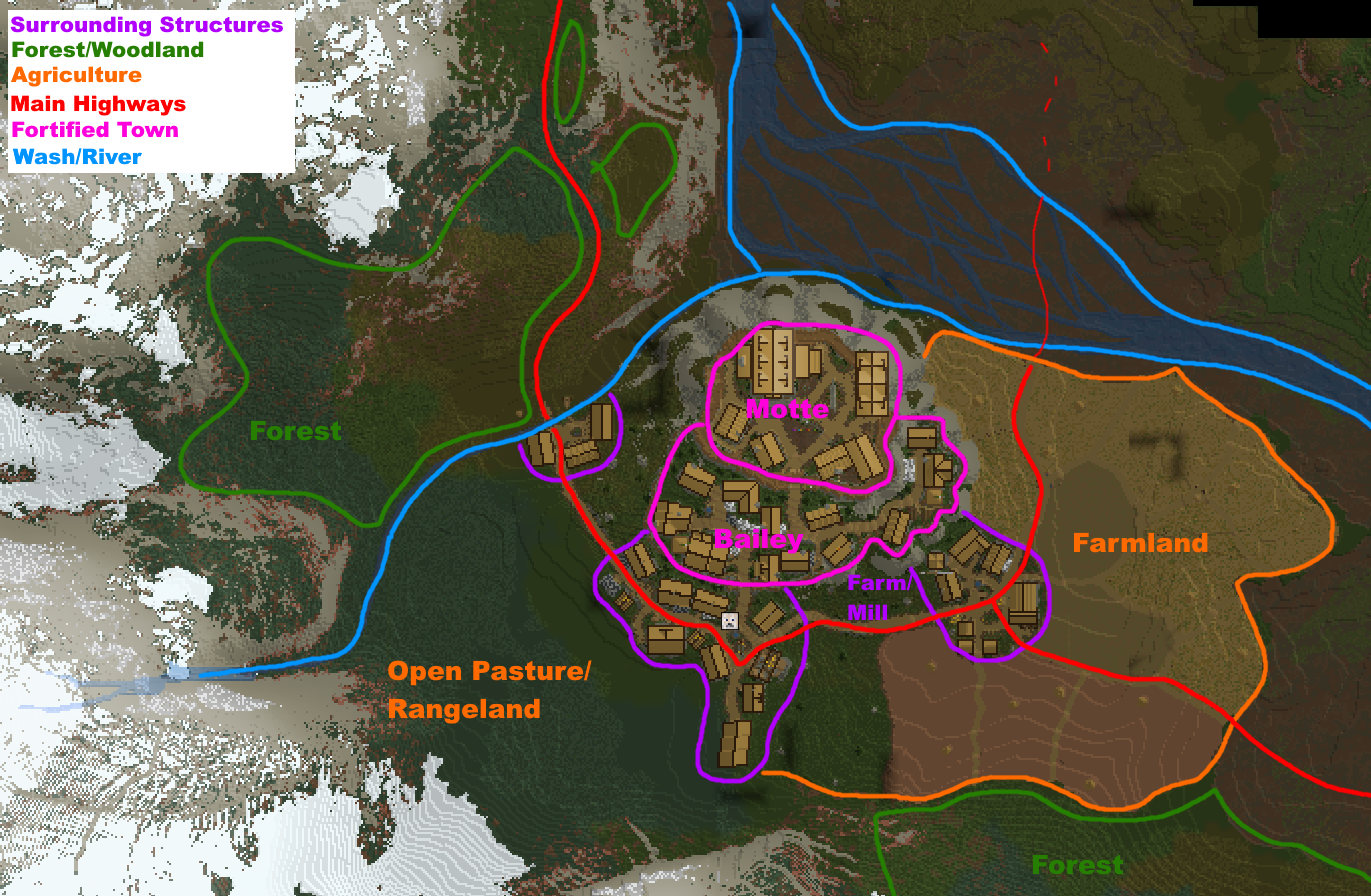 Plan
✓ - Done,

- Not Done, ◕ - In Progress, ⭯ - Needs Redoing
Fortified Town
Motte:
[✓] Outline
[✓] Main Hall
[✓] Barracks
[✓] Stables
[✓] Additional structures
[✓] Street furniture/decoration
[✓] Interior Review
[✓] Final Oversight Review
Bailey:
[✓] Outline
[✓] 11 Houses
[✓] Inn
[✓] Additional structures
[✓] Street furniture/decoration
[✓] Interior Review
[✓] Final Oversight Review
Surrounding Structures
[✓] Farm Buildings
[✓] Storage & Barns
[✓] Gate Stables
[✓] Other houses/buildings
[✓] Western Stables
[✓] Interior Review
[✓] Final Oversight Review
Agriculture
[✓] Farm fields
[

] Open Pasture/Rangeland
[

] Other (needs discussion)
[

] Final Oversight Review
Forest/Woodland
[

] Forests
[

] Final Oversight Review